Weddings
Whether you're looking for traditional, romantic, upbeat, or funky, our highly qualified team are here to help you look fabulous on your special day!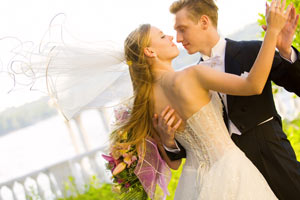 Our PERSONAL BRIDAL LESSONS can be at a time to best suit you - either weekdays, evenings, or weekends. It is best to bring your wedding song with you (on IPod or CD) when you come for your lesson. That way we can work with the music & you together, matching the theme & feeling of the song with what ideas you have. The number of lessons is entirely up to you. You may have one or two, or work for a few months depending on how involved with the choreography you would like the routine. Simple patterns will only take a few lessons to just to make you feel comfortable on the dance floor, without stepping on each other. We have a few options...
SINGLE LESSON 50 MINUTE SESSION $35.00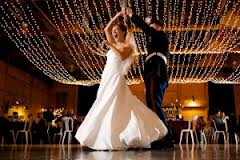 Ideal for couples who don't want a choreographed routine, but wish to learn some basic steps . . Depending on your previous experience, a few lessons should have you looking and feeling confident on the day.
BRIDAL PACKAGE 8 SESSIONS $200.00
The most popular choice with our Bridal couples. With the 8 Lesson Pack your teacher will choreograph a routine to the song of your choice, making your first official dance as Husband and Wife very special ... not to mention, thoroughly impressing family and friends!
BRIDAL PACKAGE 12 SESSIONS $300.00
Want to achieve the "wow!" factor!!! This is the one for you! .If you're looking for something a little different, completely "out-there", or just a really polished routine, this package can be tailored to whatever you'd like to achieve for your 'Big Day' First Dance long remembered by all.
For those who'd like to include Bridal Party members or others who'll be dancing on the day, an additional charge of $10 per person per session would apply.
We recommend you plan to finish your lessons 1-2 weeks prior to your Wedding date. .This way you're not at risk of forgetting all that you've learnt, and still have a little time up your sleeve to squeeze in an extra lesson or two, if required.